Many are warning about the need to plan for 10-15 years from now when the currently busy mills begin to close because there is not that much pine around any more. One place you don't hear much of this line of thinking is in government. I guess they only have to think four years ahead.

You will not be surprised therefore to hear that this article is not written by a someone in government.
Let's Grow a Pine Beetle Fund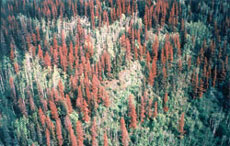 BC must invest now to stave off beetle crises in the future.

Published: August 17, 2005


TheTyee.ca
Timelines in forestry are long, far longer than election cycles, which is why governments of all political stripes are often reluctant to invest in reforestation.
There's a danger in such thinking, however, because it causes us to lose sight of where our forestry dollars end up. In British Columbia, forestry related activities fund many of our public services. For that reason, nurturing our publicly owned forests makes a lot of sense. By investing in them today, we set the table for a more secure tomorrow.
Unfortunately, such investments are not being made. And continued failure to do so ensures great hardship for Interior communities in the years ahead.